High Performance Coatings
High Performance Coatings
When considering a new coating there are many things that you need to know before making a decision. We can make this very easy with our extensive knowledge and expertise in this area.
Industrial Urethane Coatings

Epoxy Floor Coatings

Waterproof Coatings

Elastomeric Roof Coatings

Specialty & Decorative Coatings
Reinforced Polyurethane Coatings

PMMA Coatings

Breathable Waterproof Coatings

Building Sealers

Traffic Coatings
Importance of Selecting the Right Coating for Your Building
Selecting the right coating for your building is crucial to ensure its longevity and protect its historic masonry. A poor choice in coating can potentially cause irreversible damage to the building, which is why it's essential to choose carefully. At Atlantic Restoration, we have extensive knowledge and expertise in the area of coatings, making the decision-making process easy for you.
Identifying the Appropriate Coating for Your Building
Identifying the substrate of your building is crucial in selecting the appropriate coating. Our experts will determine the type of stone used in the construction of the building, the geographic origin of the stone, and the physical qualities of the stone, such as its durability and permeability to water.
Based on this information, we identify the appropriate coating for any location, situation, and condition. Our expert coating selection process ensures that the historic masonry of your building is protected from irreversible damage.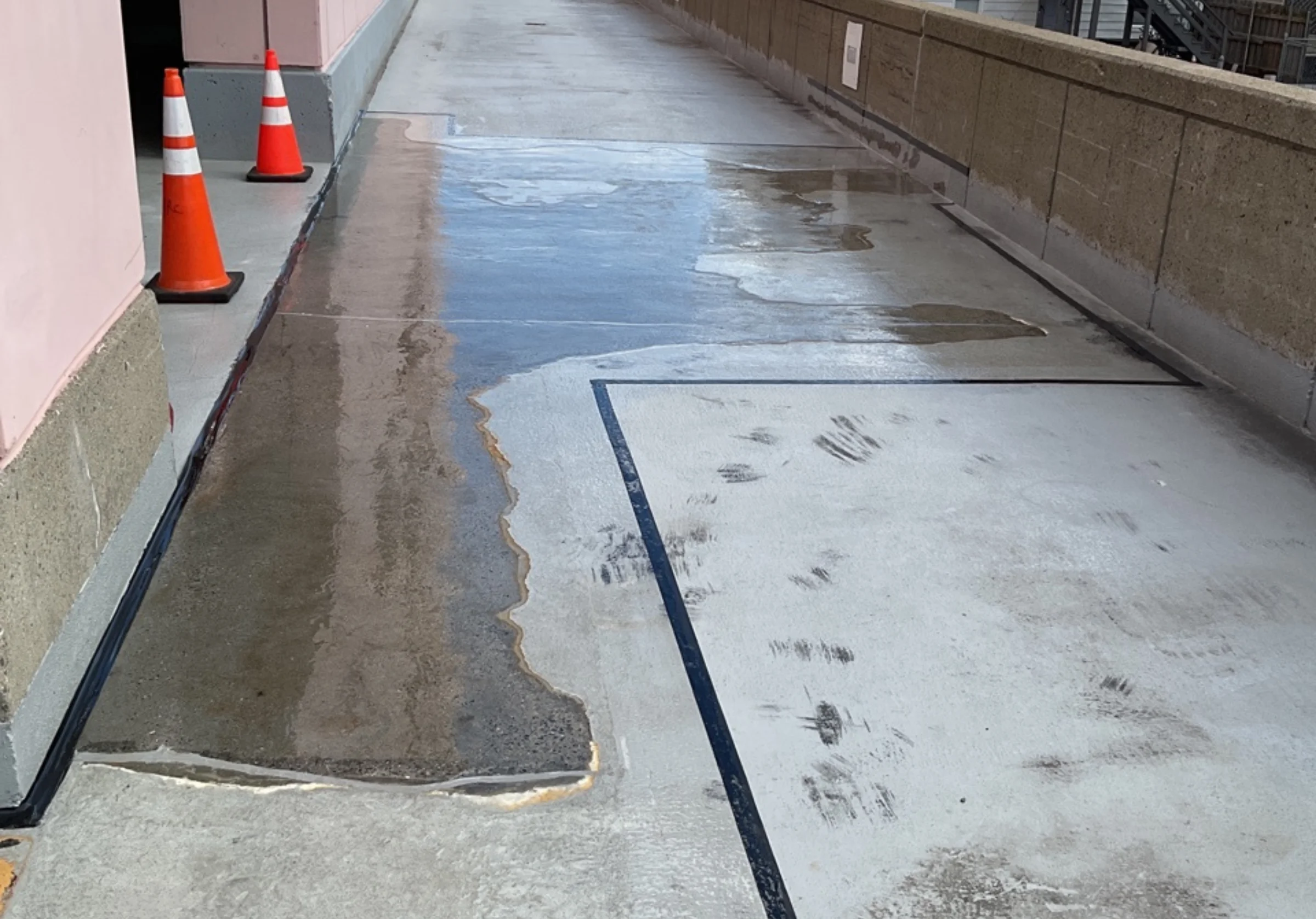 Approval and Aesthetics
Once the appropriate coating product is chosen, we provide you with all of the samples and color types for your approval. This allows you to envision the final result and ensure that the coating aligns with your preferred aesthetic.
Not only will the correct waterproof coating improve the appearance of your building, but it will also increase its longevity, protecting it from water damage and other environmental factors. With Atlantic Restoration's expert coating selection process, you can trust that your historic masonry building is in good hands. Contact us today to learn more about our high-performance coatings and how we can protect your building.
High Performance Coating Capabilities
Industrial urethane coatings are renowned for their exceptional durability and resistance to abrasion, chemicals, and UV exposure. These coatings are widely used in industrial settings to protect equipment, machinery, and structures subjected to harsh environments. Their high flexibility and adhesion properties make them suitable for surfaces prone to movement and expansion. Industrial urethane coatings provide superior protection against corrosion and impact, making them a preferred choice in industries such as manufacturing, automotive, and construction.
Epoxy floor coatings are well-known for their seamless, glossy finish and robust resistance to chemicals, heavy foot traffic, and mechanical stress. These coatings are commonly applied to concrete floors in commercial, industrial, and residential spaces to create durable, easy-to-clean surfaces. Epoxy floor coatings enhance the aesthetics of spaces while offering exceptional durability and longevity. They are valued for their ability to transform dull and worn-out floors into attractive, high-performance surfaces that meet hygiene, safety, and functionality requirements.
Waterproof coatings serve as a protective barrier against water infiltration, moisture damage, and leaks. These coatings are essential for structures exposed to wet environments, such as roofs, basements, and exterior walls. Waterproof coatings can be formulated using various technologies, including liquid-applied membranes and elastomeric polymers. By preventing water penetration, these coatings extend the lifespan of structures and prevent costly repairs. They find applications in both residential and commercial construction, ensuring the integrity of buildings in the face of water-related challenges.
Elastomeric roof coatings are designed to provide elasticity, durability, and UV resistance to roofing systems. These coatings are particularly effective on roofs that experience thermal expansion and contraction due to temperature fluctuations. Elastomeric coatings create a seamless membrane that shields roofs from water damage and reflects sunlight, reducing heat absorption and contributing to energy efficiency. They are widely used in commercial, industrial, and institutional buildings to extend the life of roofing materials and maintain a watertight seal.
Specialty and decorative coatings offer a wide range of creative possibilities to enhance surfaces' appearance, texture, and functionality. These coatings are used in architectural, interior design, and artistic applications to achieve specific visual effects and meet unique requirements. They can include coatings with metallic finishes, textured surfaces, anti-graffiti properties, and more. Specialty coatings allow for customization while maintaining high performance and protection. From accentuating building facades to adding artistic flair to interior spaces, these coatings provide an avenue for creativity and individuality.
what I customers think of us
Honesty, integrity & experience
"I am the property manager for a luxury condominium in the Boston area that engaged the services of Ted Fernald of Atlantic Restoration.

We had a completed the restoration of a garage surface of had significant damages. Our engineer met with Ted on a weekly basis to go over each repair and then checked the quality of his work. Ted was very cooperative with the residents throughout the project and cooperated fully with our staff and the valet company hired to transport vehicles to and from the garage. If you have a difficult project that needs Ted's expertise, I would recommend Atlantic Restoration for your next project."
"Atlantic Restoration is a preferred vendor for Greater Boston Properties due to their timely and efficient service. Regardless of the scope, all work performed by this firm is thoroughly planned and executed."
"Please allow this letter to serve as my formal recommendation of Mr. Ted Fernald and the Atlantic Restoration Corp.

62P Montvale Ave, Stoneham, MA 02180. Mr. Fernald's firm has performed several projects designed and administered under my supervision. All were performed with expert craftsmanship, on time, and on budget. Ted's personal integrity as well as his competence and dependability are instrumental to his ability to generate new business as a result of the recommendations from satisfied clients. Please feel free to contact my office should you require additional information."
"I have had the pleasure of working with Atlantic restoration since its inception. I find Ted to be very knowledgeable and responsive. It has been a delight to work with Ted and his crews. Everyone is always professional and extremely helpful."
"I just wanted to say, that Atlantic is doing a great job at the building.

I was home on Friday, and caught one of the guys before he left. He was kind enough to show me what they had done on the North side – extensive work – and explain what they are finding in other areas. He also had some interesting feedback about the windows, so I am not sure if they will put any of their findings in writing – but that may help us with grounds to push for owners to have them replaced (or have them inspected). He was actually concerned that the condition of the windows would undermine the work they are doing on the masonry.

I thought I would share that with you and the Board, and if you speak with Atlantic you can pass on my compliments regarding the crew. They were even on-site all weekend, working on the East (ocean) side."
"Shortly after we agreed on a contract with Atlantic for work on the south elevation there was a significant storm that caused damage to a different elevation, previously restored by another waterproofing company. Ted's team immediately engaged an engineer which identified significant issues with some of the work previously performed. With the engineer's report in hand the scope was completely revamped to address the most serious needs of the building – stopping water infiltration and preventing additional damage to the structure of the building, while remaining sensitive to our limited budget.

Ted's knowledge of the products and his willingness to share this knowledge really helped our Board and owners understand what needed to be done to restore our building. His flexibility, pricing, ongoing communication, and honesty made it easy as a Board member to oversee this project."