Building Envelope Study and Maintenance Programs
Expert Building Envelope Services
The building envelope is the single most important component of a building. Its construct and integrity separate the interior elements from the exterior elements. This includes moisture control and energy efficiency. Understanding building types helps us determine various conditions that can improve your building's performance.
At Atlantic Restoration, we have many building envelope services for your building:
Facade Repairs & Restoration

Carpentry, Cladding, Trim, Windows, & Doors

Masonry Construction & Repair

Historical Preservation & Restoration

Envelope Cleaning
High Performance Coatings

EIFS

Roof Replacement

Balcony Repairs

Parapet Repairs & Restoration

Skylight & Atrium Restoration
Protect Your Building's Integrity with a Strong Building Envelope
As a property owner, you know the importance of maintaining your building's integrity. One crucial component of your building's overall performance is the building envelope. It's what separates the interior of your building from the outside environment and protects it from weather, moisture, and other external elements.
Ensuring that your building envelope is in good condition is vital to maintaining the longevity and energy efficiency of your property. At ARC Boston, we offer building envelope assessment services to help you identify and fix minor problems before they turn into costly repairs.
Comprehensive Examination of Your Building Envelope Needs
Our building envelope assessment services provide a detailed examination of your building's needs, from the roof to the foundation. By examining your building plans and drainage system, we can determine if the alterations and construction to the building shell are working as intended.
We also assess the condition of the building envelope components such as the walls, windows, doors, and roof. Our experts use the latest tools and techniques to identify any weaknesses or damage that could affect the performance of your building envelope.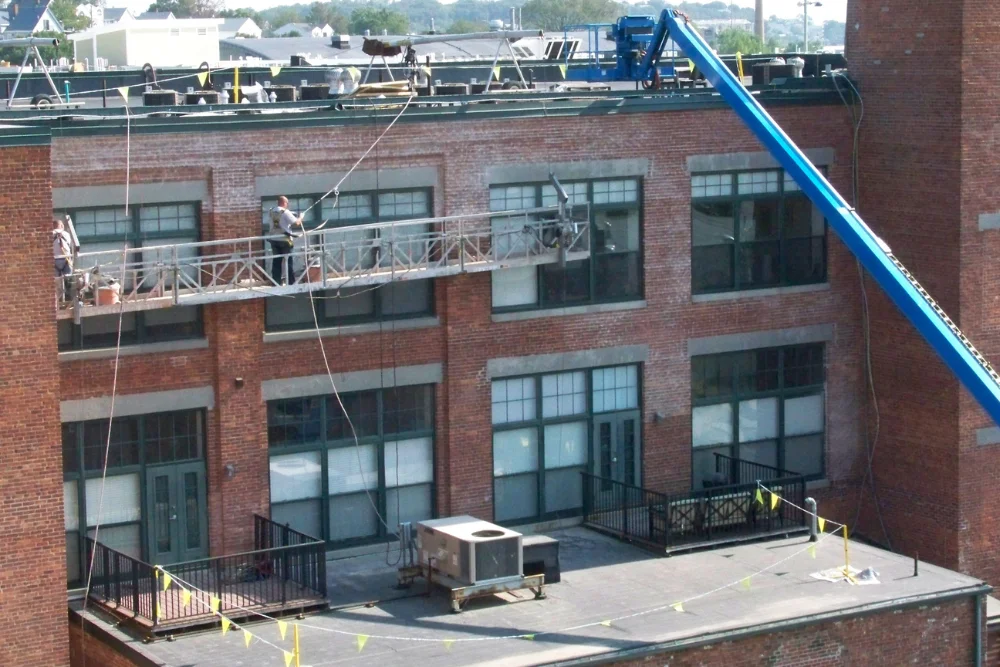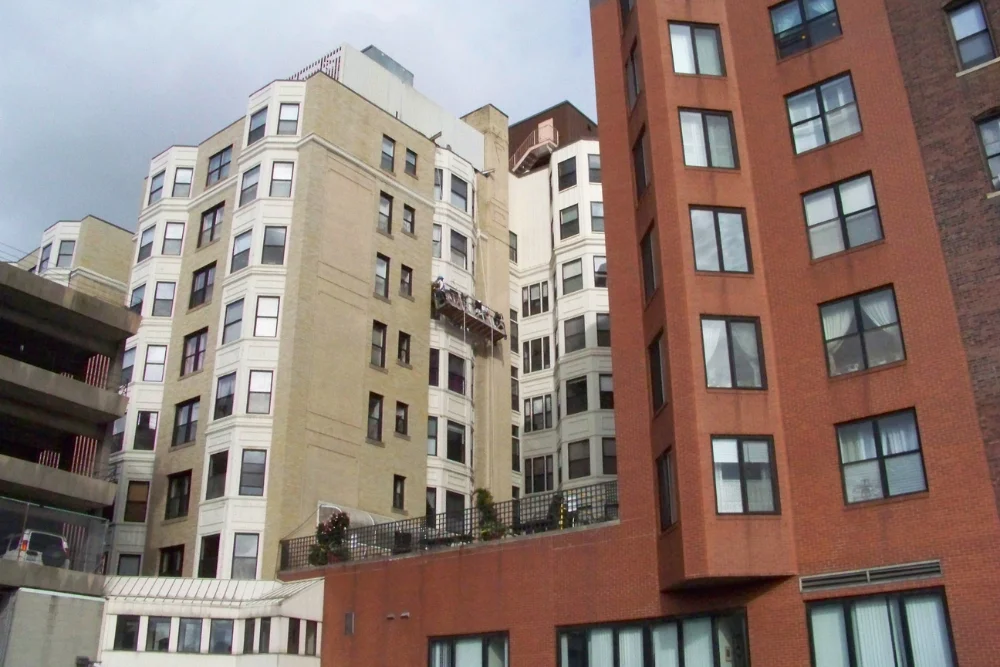 Plan for Future Repairs with Building Envelope Assessment Services
Once the appropriate coating product is chosen, we provide you with all of the samples and color types for your approval. This allows you to envision the final result and ensure that the coating aligns with your preferred aesthetic.
Not only will the correct waterproof coating improve the appearance of your building, but it will also increase its longevity, protecting it from water damage and other environmental factors. With Atlantic Restoration's expert coating selection process, you can trust that your historic masonry building is in good hands. Contact us today to learn more about our high-performance coatings and how we can protect your building.
Building Envelope
Capabilities
As a property owner, the preservation of your building's structural integrity holds paramount importance in ensuring both its longevity and energy efficiency. Yet, comprehending the intricate web of components that collectively contribute to your building's functionality can be overwhelming.
The concept of the building envelope emerges as a fundamental shield demarcating the building's internal environment from the external surroundings. This critical barrier serves as a bulwark against adversities such as weather fluctuations, moisture infiltration, and other external elements, safeguarding the interior from potential harm. The maintenance of the building envelope assumes a pivotal role in determining the overall performance of the structure.
The assurance of your building envelope's impeccable condition rests upon a comprehensive assessment. This indispensable service entails a meticulous scrutiny of the entirety of your building's envelope requirements, extending from the roof to its very foundation. The proficiency of our experts lies in their capability to swiftly identify and address minor glitches before they escalate into exorbitant repair undertakings.
By delving into the specifics of your building plans, we can ascertain the efficiency of your drainage system and validate the appropriateness of alterations and enhancements made to the building shell. Furthermore, this service plays a pivotal role in the formulation of a blueprint for impending repairs, facilitating a systematic approach in terms of phased implementation and scheduling.
In essence, prioritizing the assessment and maintenance of your building envelope ensures not only the present condition but also fortifies the structure against potential challenges, ensuring its sustained performance for years to come.
what I customers think of us
Honesty, integrity & experience
"I am the property manager for a luxury condominium in the Boston area that engaged the services of Ted Fernald of Atlantic Restoration.

We had a completed the restoration of a garage surface of had significant damages. Our engineer met with Ted on a weekly basis to go over each repair and then checked the quality of his work. Ted was very cooperative with the residents throughout the project and cooperated fully with our staff and the valet company hired to transport vehicles to and from the garage. If you have a difficult project that needs Ted's expertise, I would recommend Atlantic Restoration for your next project."
"Atlantic Restoration is a preferred vendor for Greater Boston Properties due to their timely and efficient service. Regardless of the scope, all work performed by this firm is thoroughly planned and executed."
"Please allow this letter to serve as my formal recommendation of Mr. Ted Fernald and the Atlantic Restoration Corp.

62P Montvale Ave, Stoneham, MA 02180. Mr. Fernald's firm has performed several projects designed and administered under my supervision. All were performed with expert craftsmanship, on time, and on budget. Ted's personal integrity as well as his competence and dependability are instrumental to his ability to generate new business as a result of the recommendations from satisfied clients. Please feel free to contact my office should you require additional information."
"I have had the pleasure of working with Atlantic restoration since its inception. I find Ted to be very knowledgeable and responsive. It has been a delight to work with Ted and his crews. Everyone is always professional and extremely helpful."
"I just wanted to say, that Atlantic is doing a great job at the building.

I was home on Friday, and caught one of the guys before he left. He was kind enough to show me what they had done on the North side – extensive work – and explain what they are finding in other areas. He also had some interesting feedback about the windows, so I am not sure if they will put any of their findings in writing – but that may help us with grounds to push for owners to have them replaced (or have them inspected). He was actually concerned that the condition of the windows would undermine the work they are doing on the masonry.

I thought I would share that with you and the Board, and if you speak with Atlantic you can pass on my compliments regarding the crew. They were even on-site all weekend, working on the East (ocean) side."
"Shortly after we agreed on a contract with Atlantic for work on the south elevation there was a significant storm that caused damage to a different elevation, previously restored by another waterproofing company. Ted's team immediately engaged an engineer which identified significant issues with some of the work previously performed. With the engineer's report in hand the scope was completely revamped to address the most serious needs of the building – stopping water infiltration and preventing additional damage to the structure of the building, while remaining sensitive to our limited budget.

Ted's knowledge of the products and his willingness to share this knowledge really helped our Board and owners understand what needed to be done to restore our building. His flexibility, pricing, ongoing communication, and honesty made it easy as a Board member to oversee this project."
Our Building Envelope Service Clients