Concrete Services – Repairs & Replacements
Choose the Right Concrete Services
Our team of skilled technicians is well-versed in all aspects of concrete work, from repairing and replacing old concrete to coating concrete at your property.
Concrete Sealing

Concrete Coatings

Structural Repairs

Concrete Replacements
Expert Concrete Replacements
Atlantic Restoration's concrete replacement services go beyond mere structural integrity; we also prioritize longevity and functionality. With a commitment to using innovative technologies and premium materials, our solutions ensure that commercial and industrial properties not only meet industry standards but also stand the test of time, adding long-term value to the client's investments. Whether it's a factory, warehouse, or industrial facility, Atlantic Restoration is the trusted partner for all concrete replacement needs.
Efficient Concrete Repairs
We understand that wear and tear on concrete is inevitable, but that doesn't mean you have to replace it entirely. Our technicians are skilled in a variety of repair techniques that can cost a fraction of the price of replacement, including the use of high-strength repair mortars. We can handle any type of repair, whether it's a minor crack or a significant structural issue. Trust us to get the job done quickly and efficiently.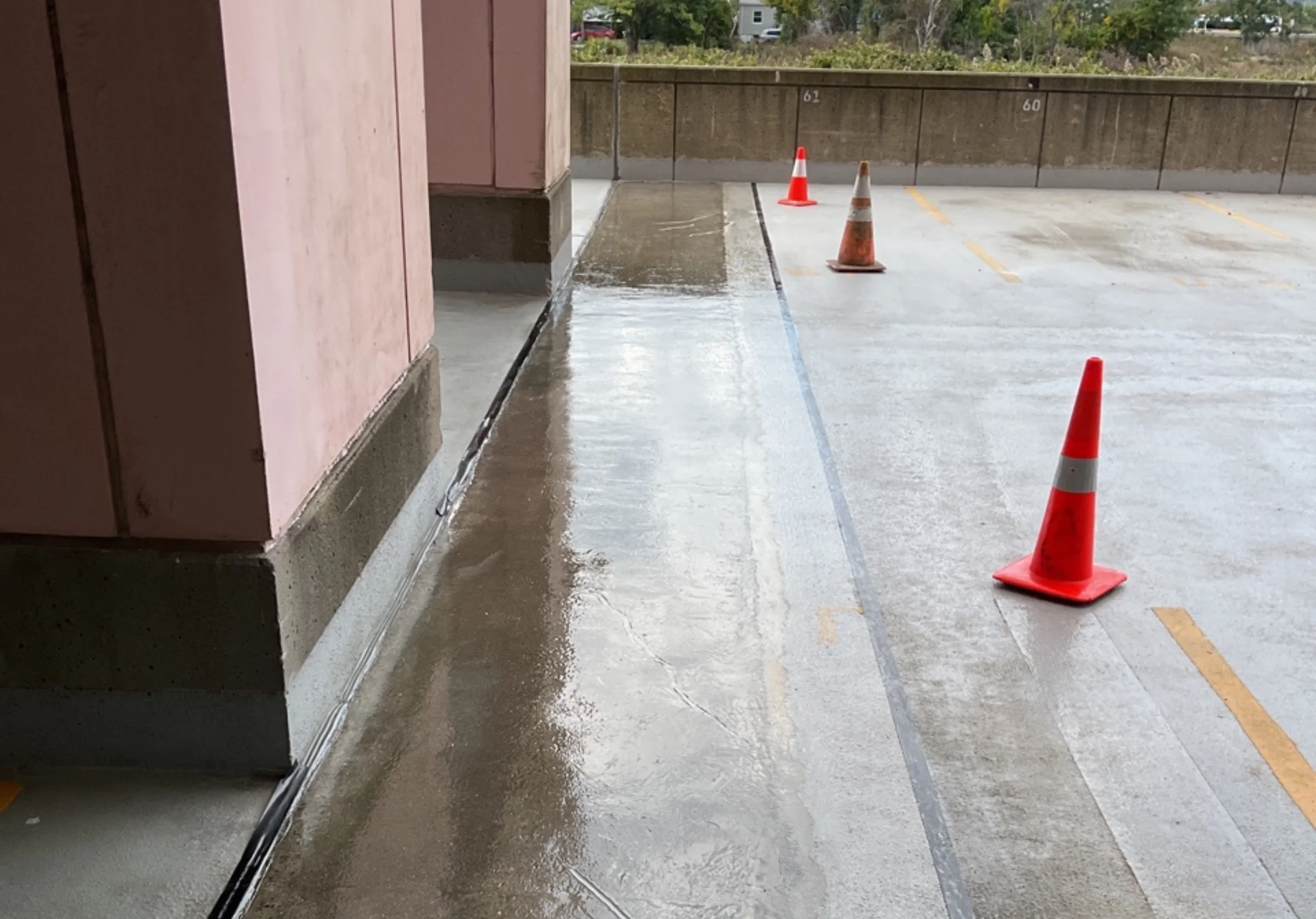 Concrete Sealing & Coatings
Atlantic Restoration specializes in providing concrete sealings and coatings for commercial and industrial properties. With a commitment to durability, longevity, and performance, Atlantic Restoration offers a range of solutions tailored to the unique needs of each project. Our expert team employs cutting-edge technologies and high-quality materials to protect and enhance concrete surfaces, whether it's a warehouse floor, a parking garage, or a factory space. These sealings and coatings not only safeguard against the wear and tear of heavy machinery, chemicals, and foot traffic but also improve aesthetics, making the surfaces more attractive and easy to maintain.
Atlantic Restoration's dedication to delivering excellence ensures that our clients' concrete surfaces remain resilient, attractive, and functional for years to come, ultimately adding value to their commercial and industrial properties.
Concrete serves as a critical element in the construction of any building, exerting a substantial influence on the overall structural integrity of the edifice. It is a foundational component that demands careful attention and expertise. At our company, we boast a team of proficient technicians well-versed in every facet of concrete work. Our capabilities span a broad spectrum, ranging from the restoration and replacement of aged concrete to the incorporation of innovative polymers and additives that contribute to the durability and longevity of the construction.
When it comes to new concrete installations, our team is equipped to embrace challenges with unwavering determination. We take pride in remaining abreast of the latest advancements within the industry. This commitment drives us to actively engage in seminars and conventions, ensuring that we consistently deliver top-tier service to our valued clientele. Armed with advanced certifications and a deep reservoir of knowledge, we stand as a reliable partner for your concrete installation requirements, delivering meticulous attention to detail and a commitment to precision.
In instances where the need arises to repair or replace aged concrete, our expertise shines through. Our technicians wield the necessary tools and proficiency to execute these tasks swiftly and efficiently. We boast mastery over a diverse array of repair techniques, many of which offer substantial cost savings compared to full-scale replacement. Our arsenal includes the strategic application of high-strength repair mortars, offering a viable alternative that preserves both budget and structural integrity.
At Atlantic Restoration, we hold steadfast in our conviction that concrete work should embody three core principles: affordability, efficiency, and durability. Whether the task at hand involves the installation of new concrete or the restoration of existing surfaces, our team consistently rises to the occasion. With an unwavering commitment to quality and performance, we invite you to engage with us today. Discover how our comprehensive expertise can address your concrete needs in a manner that reflects our foundational values.
what I customers think of us
Honesty, integrity & experience
"I am the property manager for a luxury condominium in the Boston area that engaged the services of Ted Fernald of Atlantic Restoration.

We had a completed the restoration of a garage surface of had significant damages. Our engineer met with Ted on a weekly basis to go over each repair and then checked the quality of his work. Ted was very cooperative with the residents throughout the project and cooperated fully with our staff and the valet company hired to transport vehicles to and from the garage. If you have a difficult project that needs Ted's expertise, I would recommend Atlantic Restoration for your next project."
"Atlantic Restoration is a preferred vendor for Greater Boston Properties due to their timely and efficient service. Regardless of the scope, all work performed by this firm is thoroughly planned and executed."
"Please allow this letter to serve as my formal recommendation of Mr. Ted Fernald and the Atlantic Restoration Corp.

62P Montvale Ave, Stoneham, MA 02180. Mr. Fernald's firm has performed several projects designed and administered under my supervision. All were performed with expert craftsmanship, on time, and on budget. Ted's personal integrity as well as his competence and dependability are instrumental to his ability to generate new business as a result of the recommendations from satisfied clients. Please feel free to contact my office should you require additional information."
"I have had the pleasure of working with Atlantic restoration since its inception. I find Ted to be very knowledgeable and responsive. It has been a delight to work with Ted and his crews. Everyone is always professional and extremely helpful."
"I just wanted to say, that Atlantic is doing a great job at the building.

I was home on Friday, and caught one of the guys before he left. He was kind enough to show me what they had done on the North side – extensive work – and explain what they are finding in other areas. He also had some interesting feedback about the windows, so I am not sure if they will put any of their findings in writing – but that may help us with grounds to push for owners to have them replaced (or have them inspected). He was actually concerned that the condition of the windows would undermine the work they are doing on the masonry.

I thought I would share that with you and the Board, and if you speak with Atlantic you can pass on my compliments regarding the crew. They were even on-site all weekend, working on the East (ocean) side."
"Shortly after we agreed on a contract with Atlantic for work on the south elevation there was a significant storm that caused damage to a different elevation, previously restored by another waterproofing company. Ted's team immediately engaged an engineer which identified significant issues with some of the work previously performed. With the engineer's report in hand the scope was completely revamped to address the most serious needs of the building – stopping water infiltration and preventing additional damage to the structure of the building, while remaining sensitive to our limited budget.

Ted's knowledge of the products and his willingness to share this knowledge really helped our Board and owners understand what needed to be done to restore our building. His flexibility, pricing, ongoing communication, and honesty made it easy as a Board member to oversee this project."