The Importance of Structural Repairs
Structural Repairs are important in maintaining the integrity and safety of your building. As structures age and face various forms of deterioration, timely intervention becomes crucial to prevent potential hazards and ensure their continued functionality. Our structural repair services not only address visible issues but also tackle hidden vulnerabilities, thereby extending the lifespan of infrastructure while minimizing the need for costly replacements.
Site Work & Water Management
Atlantic Restoration's site work and water management services keep your properties safe. By managing water resources and implementing innovative site strategies, Atlantic Restoration mitigates erosion and prevents flooding. This approach enhances the aesthetic appeal of spaces. From constructing effective drainage systems to implementing erosion control measures, Atlantic Restoration's commitment to site work and water management reflects a broader commitment to responsible urban planning.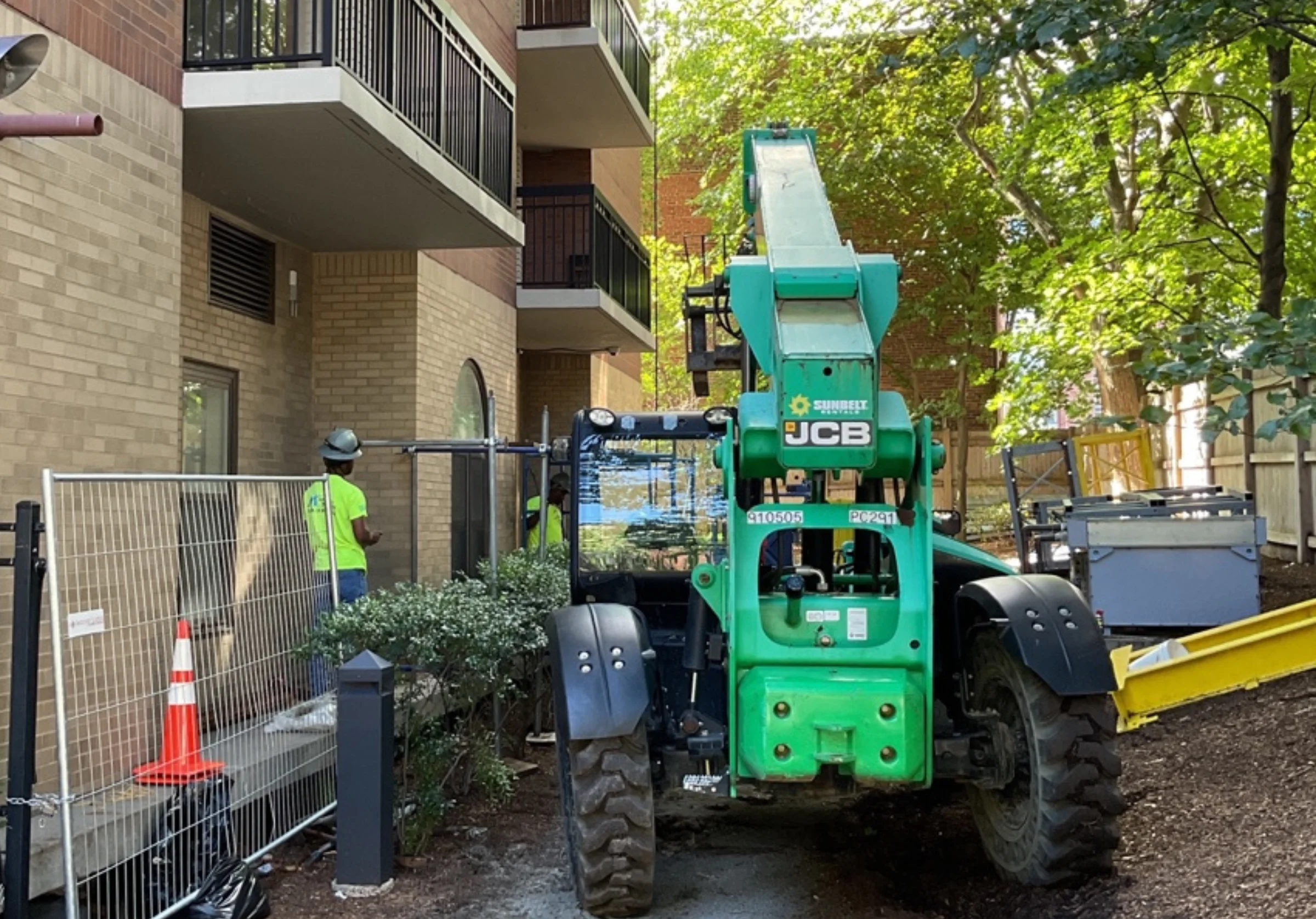 Structure Demolition
Atlantic Restoration's site demolition service offers a comprehensive solution for efficiently and safely clearing spaces. With a track record of excellence, we specialize in executing controlled demolitions that prioritize safety, environmental responsibility, and client satisfaction. Utilizing advanced techniques and state-of-the-art equipment, Atlantic Restoration demos structures, from small buildings to large industrial complexes. Our expert team plans each demolition, considering factors such as structural integrity, debris management, and site clearance.
General Contracting Capabilities
When you're seeking top-notch general contracting services, look no further than Atlantic Restoration. With a team of seasoned experts boasting years of experience in the construction industry, we are equipped to handle a diverse array of projects that meet even the most challenging client demands.
At Atlantic Restoration, we recognize the individuality of each project. This understanding drives us to customize our services to precisely align with the distinct requirements of our clients. Our approach involves comprehensive project management for every undertaking, ensuring not only high-quality results but also adherence to timelines and budgets. We work collaboratively with clients, prioritizing their expectations and effectively addressing any concerns.
Our general contracting services encompass a wide spectrum of offerings, including pre-construction planning, design, construction management, and renovation services. With a particular emphasis on historical building restoration, our proficiency extends to traditional building methods such as masonry, plastering, and carpentry.
While we excel in traditional techniques, we also leverage cutting-edge technologies, tools, and equipment to bolster the safety, efficiency, and effectiveness of our projects. Our adept team of skilled professionals has a proven track record of delivering high-caliber work within stipulated timeframes and financial parameters.
At Atlantic Restoration, our unwavering commitment revolves around furnishing clients with nothing less than the finest general contracting services. Contact us without hesitation to initiate discussions about your project requisites. Schedule a consultation with our team of experts today and take the first step toward turning your vision into reality.
what I customers think of us
Honesty, integrity & experience
"I am the property manager for a luxury condominium in the Boston area that engaged the services of Ted Fernald of Atlantic Restoration.

We had a completed the restoration of a garage surface of had significant damages. Our engineer met with Ted on a weekly basis to go over each repair and then checked the quality of his work. Ted was very cooperative with the residents throughout the project and cooperated fully with our staff and the valet company hired to transport vehicles to and from the garage. If you have a difficult project that needs Ted's expertise, I would recommend Atlantic Restoration for your next project."
"Atlantic Restoration is a preferred vendor for Greater Boston Properties due to their timely and efficient service. Regardless of the scope, all work performed by this firm is thoroughly planned and executed."
"Please allow this letter to serve as my formal recommendation of Mr. Ted Fernald and the Atlantic Restoration Corp.

62P Montvale Ave, Stoneham, MA 02180. Mr. Fernald's firm has performed several projects designed and administered under my supervision. All were performed with expert craftsmanship, on time, and on budget. Ted's personal integrity as well as his competence and dependability are instrumental to his ability to generate new business as a result of the recommendations from satisfied clients. Please feel free to contact my office should you require additional information."
"I have had the pleasure of working with Atlantic restoration since its inception. I find Ted to be very knowledgeable and responsive. It has been a delight to work with Ted and his crews. Everyone is always professional and extremely helpful."
"I just wanted to say, that Atlantic is doing a great job at the building.

I was home on Friday, and caught one of the guys before he left. He was kind enough to show me what they had done on the North side – extensive work – and explain what they are finding in other areas. He also had some interesting feedback about the windows, so I am not sure if they will put any of their findings in writing – but that may help us with grounds to push for owners to have them replaced (or have them inspected). He was actually concerned that the condition of the windows would undermine the work they are doing on the masonry.

I thought I would share that with you and the Board, and if you speak with Atlantic you can pass on my compliments regarding the crew. They were even on-site all weekend, working on the East (ocean) side."
"Shortly after we agreed on a contract with Atlantic for work on the south elevation there was a significant storm that caused damage to a different elevation, previously restored by another waterproofing company. Ted's team immediately engaged an engineer which identified significant issues with some of the work previously performed. With the engineer's report in hand the scope was completely revamped to address the most serious needs of the building – stopping water infiltration and preventing additional damage to the structure of the building, while remaining sensitive to our limited budget.

Ted's knowledge of the products and his willingness to share this knowledge really helped our Board and owners understand what needed to be done to restore our building. His flexibility, pricing, ongoing communication, and honesty made it easy as a Board member to oversee this project."